COMPLETED: Borehole and hand pump for Promised Land Community Academy, Sierra Leone (PN: 0042)
Type: Hand drilled borehole and SL pump

Location: Promised Land Community Academy, Sierra Leone

People directly affected: 295
Total Amount Collected: $550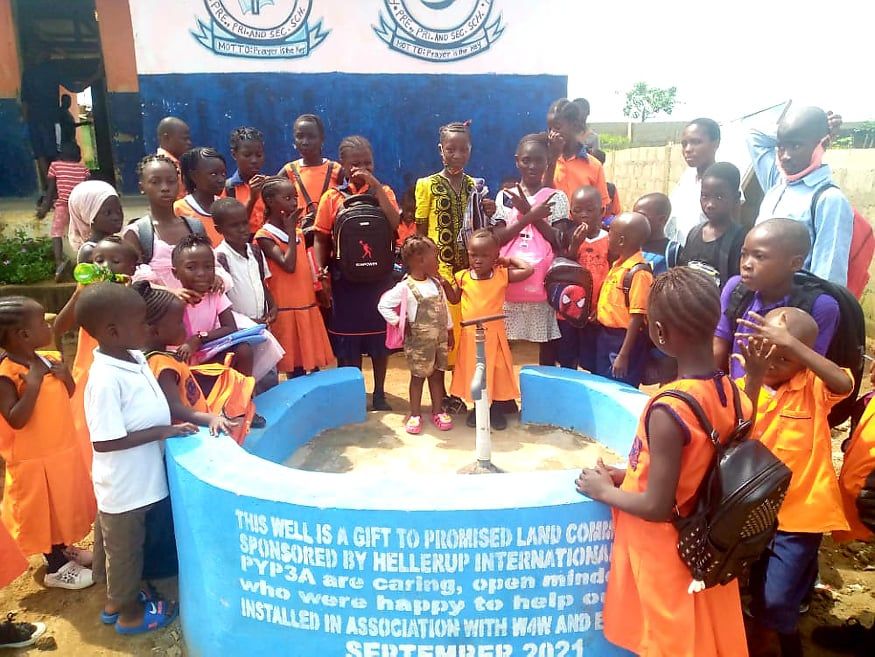 The situation:
Promised Land Community Academy began in 2009 as a nursery school with about 49 students and 5 teachers. The establishment of the school put a stop to the 3 mile walk that students had to take, from their community to the nearby village, to attend school. A walk that would include the crossing of a river in which several children have been reported drowning after falling from the artisanal bridge.
Today the Promised Land Academy School can boast of 280 pupils and 15 teachers who are volunteers from universities. Their contributions have impacted the pupils a lot in their academic journey and performance.
Today the open well in the village poses a different threat to students at Promised Land Academy School; waterborne diseases. There is no water on the school grounds, so every day beginning at 7:00 am when students arrive, they are responsible for collecting water for all of the school's drinking, cooking, and cleaning needs.
Teachers accompany the students to the stream throughout the day. Water fetched in the morning only lasts for three or four hours, at which time teachers select another group of students to go out and fetch more water. School days at Promised Land Academy are characterized by frequent interruptions to class time, costing students in their energy and focus and resulting in poor academic performance.
The well where the school gets its' water is a seasonal well which has been their only water source since the school's establishment. Being an open well, the water is unsafe for human consumption. Community members let their families launder at the same well while standing and defecating beside the surroundings of the water well, people wash clothes, bathe, and even urinate and defecate by the water well. The school containers have a few filters, but not all of the drinking water makes it through them before students consume it.
The solution:
For 550$ Hellerup International School has donated a hand drilled borehole and a closed well with a SL handpump made from locally available materials by W4W's Sierra Leonean partner ESSL. The students and staff at Promised Land Community Academy, counting 295 people, now have a clean water well available at their premises. The project was completed in September 2021.