COMPLETED: Borehole and hand pump for Habib Primary School, Sierra Leone (PN: 0032)
Type: Hand drilled borehole and SL pump

Location: Habib Primary School, Sierra Leone

People directly affected: 267

Sponsored by: Jette Uldahl Blomster
Total Amount Collected: $550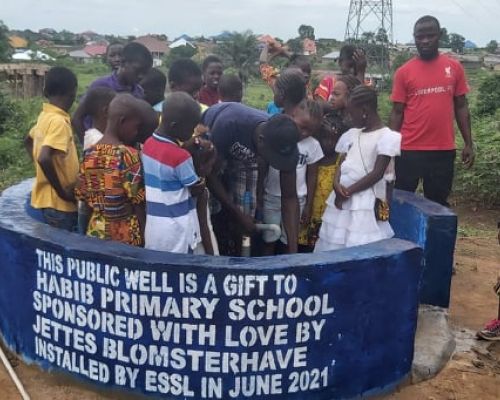 The situation:
Habib Primary School is is a community owned school. It is located in the western area rural district in the Moribe community, Waterloo, Sierra Leone. The school has about 267 pupils from surrounding communities.
The open well from which the school originally fetched their water is not protected from contamination, thus runoff water carries toxins from farm chemicals and household waste and the pupils experience increased rates of stomachaches whenever there is much rain, which pours more dirty surface runoff into the well's collection area.
Additionally, in the dry season it always dries out, forcing them to go to the stream at a considerable distance, to fetch water of poor quality.
Overcrowding at the well is common due to the time it takes for each person to draw water from it, which is especially not conducive during times of the coronavirus, when community members are trying to minimize their time in public and their numbers at the water point.
The solution:
For 550$ Jette Uldahls Blomster has donated a hand drilled borehole and a closed well with a SL handpump made from locally available materials by W4W's Sierra Leonean partner ESSL, who have drilled more than 400 wells of the type with success. The students and staff at Habib Primary School, counting 267 people, now have a clean water well available at their premises. The project was completed in June 2021.