Borehole and Electric Pump station for Ikot Udo, Nigeria (PN: 0040)
Type: Borehole and Electric pump station

Location: Ikot Udo, Nigeria

People directly affected: 1500

Project handover: June 2021

Local Partner: Umuntu Movement Nigeria

Other Partners: LoveSpring Water Denmark
Total Amount Collected: $2967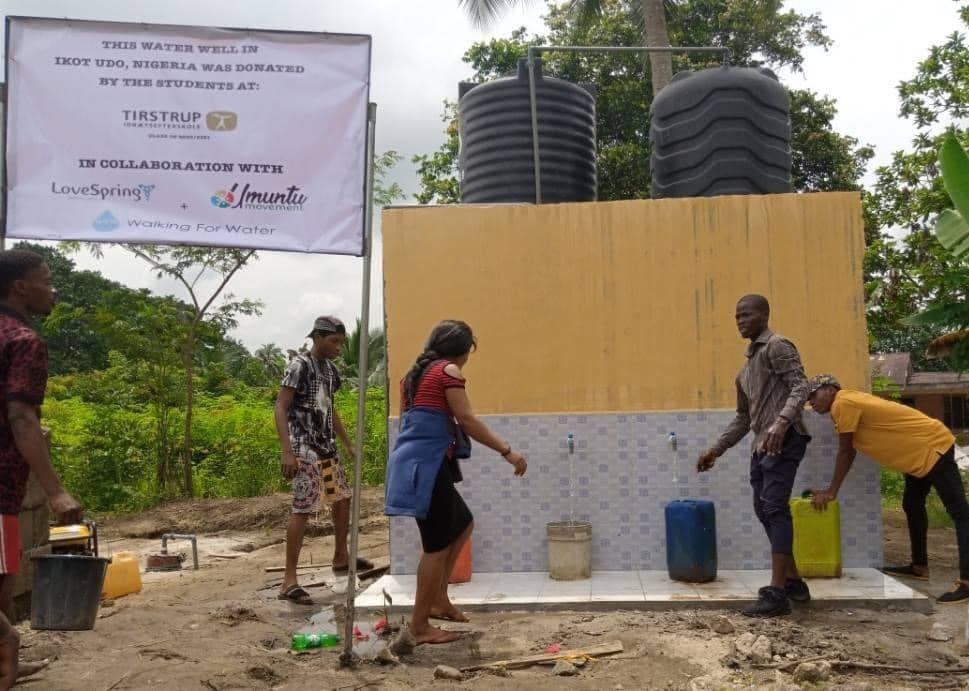 The situation:
Ikot Udo village is located in the southern part of Akwa Ibom state, Nigeria.
The community depends on the communal stream located in the swamp. This water source is located more than 30 minutes round-trip from the living area in the village and access to the water is difficult for women, children, the elderly and disabled.
Furthermore water from the stream is not safe for drinking because the stream is polluted by mud and debris. Villagers find it difficult to maintain personal hygiene, especially with the onset of the Covid-19 pandemic which lays emphasis on clean water for personal hygiene.
The solution:
For 2967$ donated by Tistrup Idrætsefterskole, the local partner Umuntu movement, have undertaken a geo survey, drilled a borehole at 50 meters depth, and fully established a functional water pumping service including a 1.5 HP electric water pump, a 20.000 litres storage tank, pipeline to 5 extended tiled tapping stations and a metal signboard. The population of Ikot Udo, counting 1500 people, now have access to basic water, defined as an improved water source available for public use within roundtrip 30 min. The project was completed in June 2021.